It's long been said that the kitchen is the heart of the home. It's a place where friends and family can come together and share not just a meal but an experience. They're often the backdrop for fond memories like baking with the kids, romantic dinners, and holiday meal preparation.
Kitchens set the tone for your home, and your design choices are important. Elevated from a purely practical role, a backsplash can enhance your home's aesthetic or become a focal point with luxe materials and rich designs.
There are endless options, so join along as we explore what's trending in 2022 for kitchen backsplashes.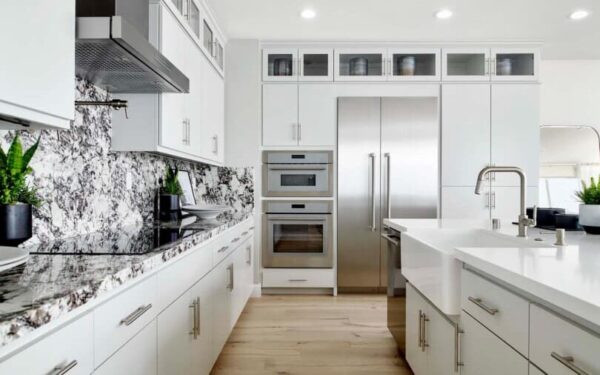 1. Slab backsplash as an extension of the countertop
A slab backsplash is a solid, continuous piece that seamlessly transitions from the countertops up the walls of your kitchen. The look is luxurious and creates a clean aesthetic that is subtle but visually interesting. Homeowners are moving away from traditional tile backsplash to this cleaner alternative – visually and literally. A slab backsplash can be installed without grout lines making clean-up as simple as a wipe-down. No more scrubbing between tiles with a toothbrush.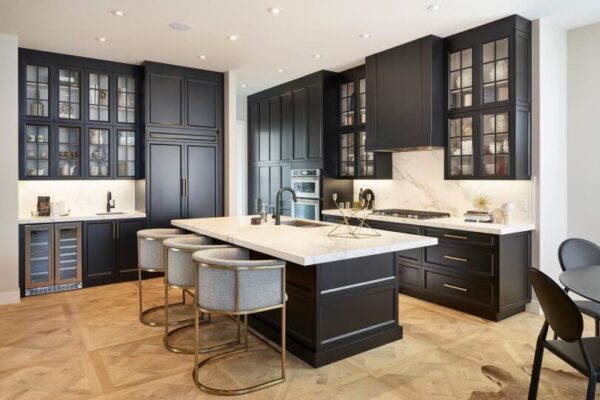 Using a natural stone such as marble or quartz makes a beautiful statement. The veining carries across the countertop and up the wall for a fluid, cohesive look. Take your pick from subtle veining to dense patterns and slight color variations to bold contrasts.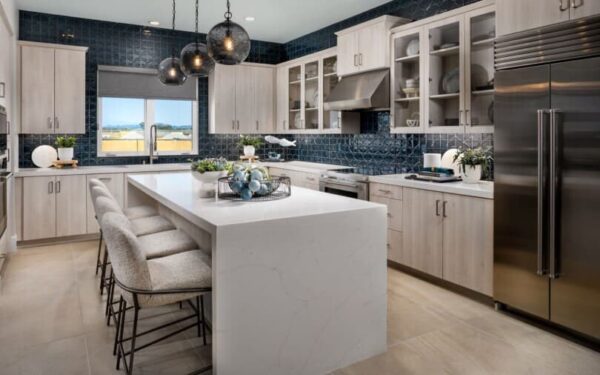 2. Ceiling height backsplash
The purpose of the backsplash is primarily functional – it protects the walls from water, oils, and grease. Standard backsplashes are about 4" tall, and while they may have some cost savings, they don't allow you to showcase your style and taste fully. Homeowners have trended toward full-height backsplashes that cover from the countertop to the bottom of the cabinets and now to ceiling height backsplash to make a statement.
Extending the backsplash to the ceiling can have a lot of benefits for kitchen design. It can draw the eye upward, making your kitchen seem larger and more spacious. It can spread out a busier backsplash, becoming less of a focal point and more of a backdrop for the space. It also creates a more unified design for the entire room rather than simply confining it to one area.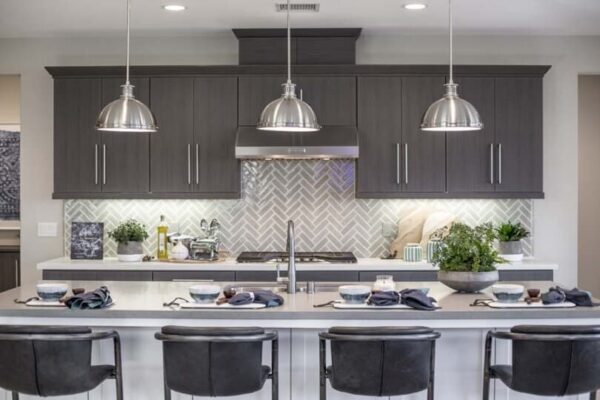 3. Elevated classics
Some design choices are timeless and most popular for all kitchen types, but sometimes they feel too "standard." 2022 will take these classic options and elevate them to something more elegant.
Subway tiles are loved for their clean look and easy maintenance, but homeowners are craving something a little different, so we're seeing larger tiles than the standard 3" x 6" size. Larger sizes such as 4" x 8" or even 4" x 12" create space perception, which is helpful in smaller kitchens. Bonus? Bigger tile means less grout to clean.
White kitchens aren't going away anytime soon. For a timeless look that feels more modern, opt for white tiles in a different shape or texture or lay your tile in a unique pattern. A hexagon shape feels more contemporary. Triangular tile creates a striking, modern look. Glass tile creates a dazzling, shiny effect like no other. The uneven texture of glazed tiles reflects and bounces the natural light in your kitchen. A stacked layout gives a more modernized vibe. A herringbone pattern adds visual detail and draws the eye. There are plenty of ways to elevate away from boring or basic.
4. Patterns, patterns, and more patterns
Because the kitchen is the heart of the home and where family and friends spend more time, many homeowners want something that turns heads. An easy way to express your unique style is with a kitchen backsplash tile in an oversized pattern or graphic print.
There's a wide variety of patterns to choose from so you're sure to find something you love. Remember that using a patterned tile is similar to using wallpaper – the repeating design should be laid out ahead of time, so the result looks balanced.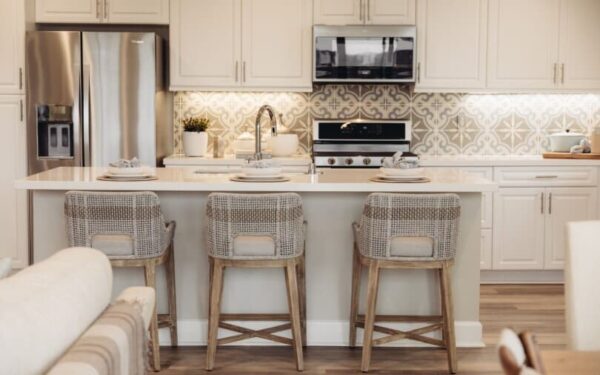 You should also consider your overall kitchen aesthetic when choosing your tile. You don't want an overly cluttered kitchen to clash with your pattern choice. White cabinets and a simple countertop allow the design to be the focal point like a piece of art.
Not all patterns have to be bold – a small, subtle pattern can be just as beautiful as a dramatic one. Choosing a more subtle pattern can create some depth and texture without being too in-your-face.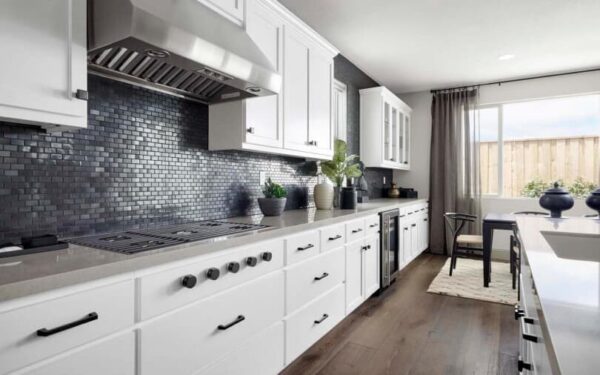 5. Bold pops of color
If you want to infuse your personality but aren't drawn to a busy pattern, a bold pop of color in a traditional shape is a great way to do so. If you want a luxurious feel, black or charcoal gray creates drama. Shades of green embody renewal, rejuvenation, and energy. Shades of blue can be relaxing and serene.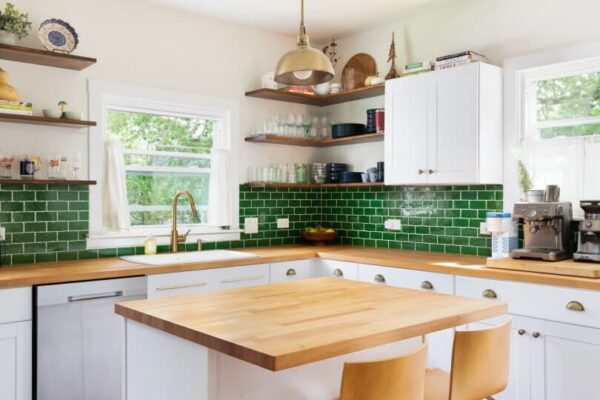 If you're feeling creative, combine two or three colors or use different shades of the same color. If you're more hesitant, you can introduce color in one or two lines or individual tiles scattered throughout the backsplash.
When it comes to designing a kitchen, there are so many design choices you have to make, from the foundational pieces like cabinets to the details like handles. The backsplash is one of the most fun and personalized choices you will make among all these choices.