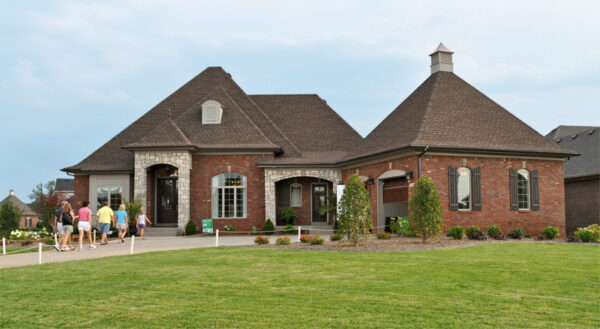 Homearama 2012 was a great success for the new home community of Rock Springs. Over 30,000 people came out from July 14-29, 2012 to view some of the most beautiful homes in Louisville. From interior design to home building and so much more, attendees found inspiration around every corner.
Homearama at Rock Springs was such a wonderful event, in fact, that this RJ Thieneman community has been invited to host Homearama 2013!
Eight of the ten Homearama 2012 homes at Rock Springs pre-sold. That means that now is the time to build your very own, customized Homearama home for the 2013 show. These homes are one-of-a-kind and, right now, you can receive discounts on a variety of home features. From energy efficient appliances to advanced home decor options, your dream home is waiting for you to make it your own!
Rock Springs Award Winners:
Best Home Design "Kitchen Cabinetry" – House #3, Paragon Homes, Inc. Supplier: Curlin Construction
Best Home Design "Landscaping" – House #9, The Jones Group. Supplier: Sue Massey
Best Home Design "Ceramic/Tile/Marble" – House #5, Deville Homes, Inc.  Supplier: Mees Tile
Best Home Design "Interior Trim" – House # 6, Clifford Thieneman Co. LLC. Supplier: Boland Maloney Lumber
Best Home Design "Interior Lighting" – House #1, Hardy Builders, LLC. Supplier: Brechers Lighting
Best Home Design "Closet Design" – House #10, Prestige Builders, Inc. Supplier: Econo Glass Systems, Inc.
Masonry Awards:
Best Home Design "Mason Workmanship" – House #8, Prestige Builders, Inc. Supplier: Verastegui Brothers Masonry
Best Home Design "Masonry" – House #10, Prestige Builders, Inc.-  Jim Ernst and David Ernst
Best Concrete Craftsmanship – House #3, Paragon Homes, Inc. Supplier: Don Robertson Concrete
Most Innovative Use of Concrete: – House #5, Deville Homes, Inc. – Chris Osborne