Written by RJT Intern, Savannah Wafford 
Sometimes by living in an apartment or condo you feel like you are giving up the ability to entertain and decorate. It can especially feel that way around the holidays. But, no need to fear! We have complied a list of tips to decorate your small space. Just because you live small doesn't mean you can't go big for the holidays!
Look into Space Saving Trees  
A Christmas tree is a quintessential part of decorating for the holidays. However, if you can't fit a huge 10 foot tree into your home- no worries! There are plenty of tree options that take up little to no-space. Here are some of our favorite ways to bring a tree into a small space.
Flat-back or half trees are a great solution if you want the traditional Christmas tree, but don't have the space. These trees sit flat against the wall, making them compact and super easy to decorate. You can buy your own at Target or on Amazon.
Hanging up a tapestry of a Christmas tree is very effective and has a big impact on the space. They are great because they are neutral and easy to customize to your space. For a DIY of the one above click here. If DIY isn't your thing you can purchase one here.
2. Washi Tape Everything
Washi tape can be used to decorate your home in so many different ways and the holidays are no exception. You can find some of our favorite holiday washi tapes here and here. Now here are a few ideas to get you started: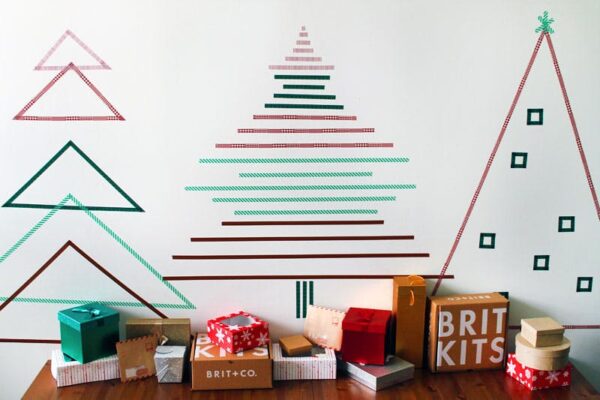 Take a few rolls of washi tape and you can create Christmas trees that take up no space! For a step by step tutorial click here.
You can also use pieces of washi tape to display holiday cards and a little bit of greenery to brighten up your space and bring in some color. This is another space saving and cost effective way to use washi tape.
3. Utilize Your Furniture
Often, in an apartment or other small space there may not be much room to spare. Utilizing the furniture and built-ins you already have can quickly have your home looking decked out for the holidays. Here are couple ways you can use the furniture you already have.
Draping wreaths on your kitchen cabinets is affordable, easy and makes a big impact. Wreaths also look great on the back of your dining room chairs or hung on a cabinet. You can see more of the darling kitchen pictured above here. 
Adding some fun holiday decor to your existing shelves, bookcases and cabinets is a great way to cohesively decorate your home. Toss some colorful bulb ornaments into a bowl, string some garland across shelves or arrange your favorite knick-knacks to add some holiday cheer all around. To see more of this beautiful holiday home click here.
If you are looking for a cozy apartment to call your own, check out The Villas of Forest Springs. The Villas of Forest Springs offers spacious, one and two bedroom apartments in the east end of Louisville.