Need help with some last-minute Halloween decorations? Read below to get some ideas!
Tissue-paper Jack-O'-Lanterns. Turn orange tissue-paper balls into pumpkins to set on your front porch or window. Cut facial features from black construction paper and apply using glue or tape.
Hanging foam bats. Grab black craft foam, googly eyes, and fishing line to hang outside your home. Get the tutorial at HGTV.
Sparkling pumpkins. Grab a pumpkin, any size. Dip the stem of the pumpkin lightly in glue and add glitter to glam it up!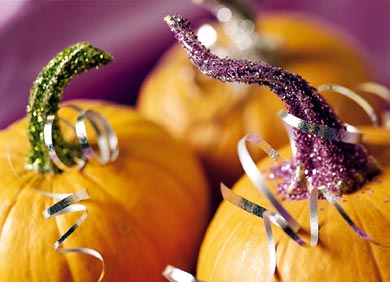 Illuminated ghost garland. All you need is a strand of white lantern lights, cotton fabric, white string and sharpie. Cut pieces of cotton fabric and place each one on each individual light. Use the string to tie the fabric around each one. Then, draw a face on it and you're done!
Mummy front door. Wrap a roll of toilet paper or paper towels around the door. Cut out some circles from black paper to add eyes.
Happy Halloween from us at RJ Thieneman!