Welcome to Rockwell, a traditional style brick/stone custom home with modern touches. This floor plan is currently available in Saratoga Springs, built by Clifford Thieneman Co. Better Home and Garden states that some of the best exterior house colors are the classics: white, beige or brown. It allows the landscape to stand out for texture and color variation. Also, adding an accent color to your window trim adds a pop of color to your classic exterior.
Not only does this floor plan feature 2,500 square feet of living, it offers an outside space that is unbelievable. According to HGTV, the biggest trend in 2016 is to have a larger outdoor deck area. People are constantly thinking of the functionality of the space, adding privacy, built-ins that offer additional seating, and storage that truly enhances the space. This fantastic deck creates a room that allows for warm, summer nights with the family and barbecuing on the weekends.
Bold color isn't the only way to add pizzazz to your kitchen! Recently featured in HGTV, is the idea to create a bold look using eccentric light fixtures. Lighting fixtures can serve to be the focal point of a room. You don't have to have a large home to take part in this trend. Homes with tall ceilings or a large foyer can also benefit from the increased sizes of today's most popular lights.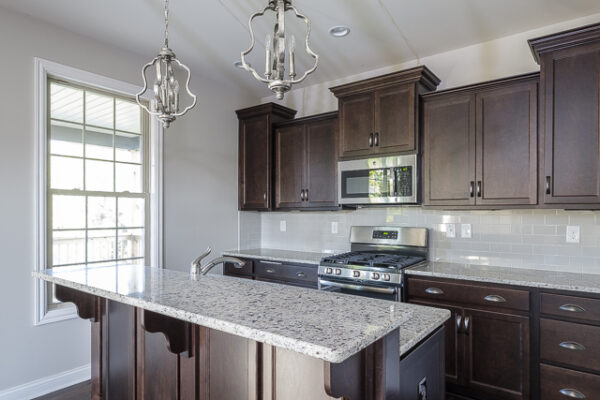 The eat-in kitchen with a large pantry, custom cabinetry and a center island with seating – all adjacent to the great room with cozy fireplace. Fireplaces have become one of the most desired features in a new home, and this house offers that! The mud room features built-in cubbies, perfect for the busy lifestyles of today's families. Attractive mudroom and entryway designs creates a flexible space that keeps all of your things organized.
This beautiful custom home is available in Saratoga Springs and it can be yours!