As the weather turns warmer and the sun gets brighter, there are few things that seem more appealing than a big scoop of ice cream on a hot summer day. As our Marketing Director Christy says,"You can't please everyone; you're not ice cream."
Luckily for RJ Thieneman, the Shops of Forest Springs has its very own Baskin Robbins, a delicious ice cream chain that offers a variety of sweet desserts.
Jay Naik has owned this Baskin Robbins for two years and has nothing but good things to say about this specific location.
"It's a growing area, so we're going to grow with the area," he said.
On this particular day, the door kept dinging as children from all over the area came into the large store- the most updated version of Baskin Robbins. 
"We've tried to make it a bright place. We've tried to make it a place where people can come, sit and enjoy themselves," Naik said. He said there are a few things that make his store unique: there is plentiful seating, including couches and instead of the typical 32 flavors, this store offers 44 at any given time of the year.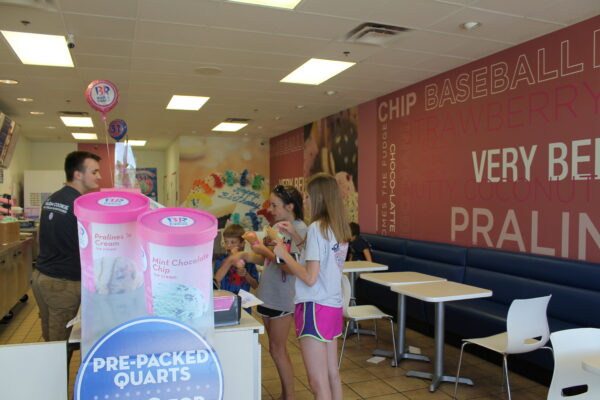 Naik said one of his favorite things about his Baskin Robbins location is the support he receives from the community and his regular customers- he says it's "very important."
"If you just look at the general community around here, the general demographics make it a really good area. We have quite a few customers that, even in winter, come here just to support us," he said.
This location has also led to a local celebrity being a customer. Former UofL basketball player Peyton Siva has even stopped by once.
Naik says his store is a "personal" chain store. Plenty of people that come into the store hold on to a tradition from their childhood- and bring their children and grandchildren in there to enjoy it with them.
"It's always good to hear when customers come in, and say 'oh, this certain flavor… I used to eat this when I was small," Naik says.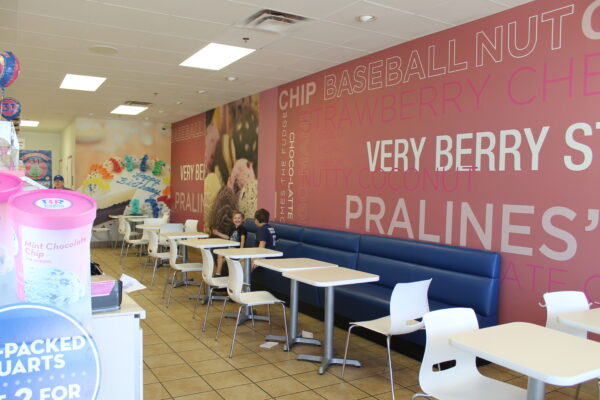 Stop by this friendly Baskin Robbins location and enjoy their current specials:
If you buy 2 scoops, you get a free waffle cone

$1.31 scoop on the 31st of every month

Hear it here first: Starting July, Baskin Robbins will feature "ice cream pizza." It will consist of a layer of cookie dough, an ice cream flavor of choice and customer's pick of toppings and syrups